Competence Area
Medical Affairs
Medical Affairs Management is an increasingly important interface between R&D, Regulatory Affairs, Marketing and the respective sales channels of pharmaceutical companies. A central hub between product companies and physicians, clinics and the relevant drug commissions. Medical Affairs is focusing on respective therapeutical areas. With in depth knowledge. The coordination of clinical strategies is one cornerstone of the competence area. Data, documents and information flow is complex – all participating entities need tob e aligned. Top experts need to be integrated alsong the whole life cycle.
lexoro's Intelligent Automation tools help to integrate these workflows and automate routine tasks to a maximum extent. Experts are freed from routine work and can fully focus on their respective domain knowledge.
Learn more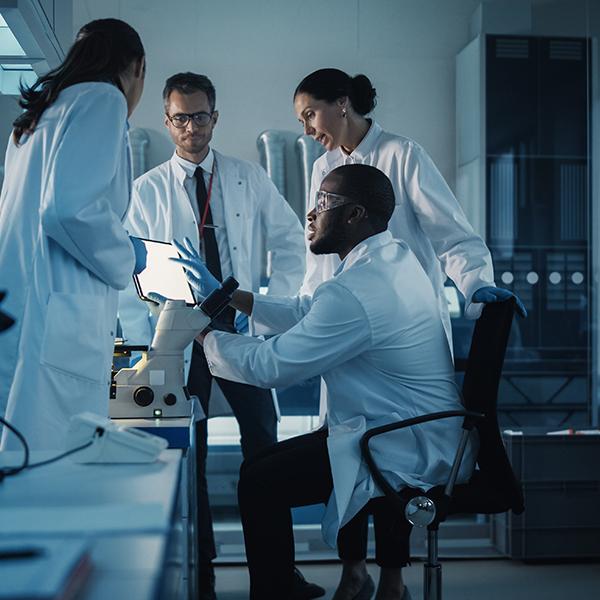 Benefits of Intelligent Automation in Medical Affairs
lexoro can support your Medical Affairs team along all relevant tasks and responsibilities. We offer end-to-end support in the area of clinical trials and related studies. We free you from routine work and give you tools to monitor and manage the full project cycle.
Automate scientific reports and promotional copies that comply with industry codes of conduct

Automation of clinical evaluation reports (MEDDEV 2.7.1 Rev 4)

Generate reports of trial data

Automated Analysis and classification of trial results

Writing of investigation and evalutation reports

Generating reports for Real World Evidence (RWE) and Patient Reported Outcomes (PRO)

Automation of reports for the clinical investigation and sale of medical devices for human use (MDR 2017/745)

Automation of medical writing (ISO 14155)

Automation of the evaluation of the biocompatibility of medical devices (ISO 10993)
Experts focused on their activities
Standardization of processes
Get rid of routine work?
Lets talk about it. Our Solution Experts can give you further insight into Intelligent Automation options along the entire Compliance-Chain.
Let BOTs and A.I. help you in time consuming tasks and refocus your time on real quality work.
Tell us about your wildest automation wishes – and we turn them into reality!
Sign up today for your initial Brainstorming.
In this first, free Kickoff-Meeting we will briefly evaluate automation potentials within your department and company – all in approx. 20 minutes.
Intelligent Automation along the entire Compliance-Chain
We enable all critical areas of the value chain with automated solutions. All regulatory workflows, tasks, documents and forms can be integrated into a highly automated suite. Check out your specific area of interest and get inspired by concrete use-cases we delivered to our clients in the MedTech, Pharmaceutical and Chemical industries.